THE THIRD BARN PROJECTS
The Third Barn has both curated projects and created collaborative works at its Third Barn site and at other locations including the Allentown Art Museum, Frank Martin Gallery at Muhlenberg College, Susan Arnold Gallery at Lebanon Valley College, and The Castle of Evoramonte in Portugal. Documentation of these and other projects can be found below.
---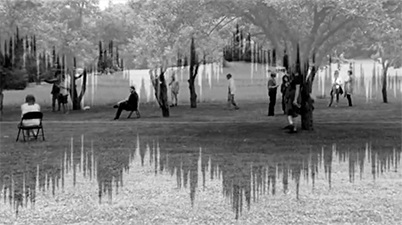 Sounds in the Orchard 2018
The Third Barn will host Michael J. Schumacher's performance of Recreation in the Orchard.




---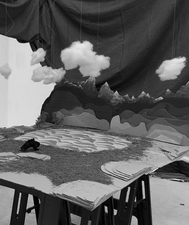 Spacebar
The Third Barn hosted Spacebar and supported their pre-production work for an upcoming video.
---

2017 Installation 1, Performance and Open Studios
The Third Barn had its 2017 debut Installation, open studios and sound/video performance on June 17th in honor of the summer solstice.
---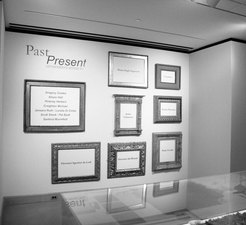 Past Present
The Third Barn curated an exhibition at the Allentown Art Museum: Past Present: Conversations Across Time. 7 artist/teams will respond to early Renaissance painting from the museum's Kress Collection to create new site specific installations.
February 22-May 17, 2015

catalog with essay by Stephen Maine
---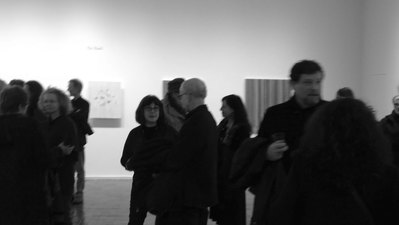 Girl Band
Girl Band explores the paintings of selected women artists, who use a shared abstract language of lines, bands, and linear elements. All of these artists aim to stretch the limits of the traditional abstract language of painted lines and bands.

This proposal introduces the work of four mid-career artists, Pat Badt, Marthe Keller, Julie Shapiro, and Kim Uchiyama, who have each developed their work in highly personal and unique ways. Their works reveal an interest in the primacy of vision, the phenomenon of color and the materiality of the support. A sense of touch, texture, and gesture—one step removed—personalizes their work. The interlacing patterns of lines are reminiscent of textiles, weaving and traditional fabrics, but the ideas imbedded in them are far from traditional. Think of stretching the limit, or elastic Bands, reverberating, bouncing.

Girl Band at the Martin Art Gallery, Muhlenberg College, February 2014

catalog with essay by Stephanie Buhmann
---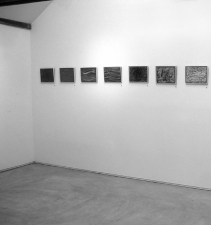 Blue Sounds
Blue Sounds, an installation of painting + sound, now in the Permanent Collection of the American Embassy, RIga, Latvia